D.C Twerkers Strikes Again at Unidentified Convenience Store
Updated: Mar 21


THE D.C TWERKERS
Rumors have it that the D.C Twerkers are back at it again. Convenience store cameras caught two BBW twerkers attempting to provoke a gentleman waiting at the checkout counter at an unidentified convenience store.
Although it's uncertain as to what the twerker's motives are and why they're targeting & twerking down black males, t

he D.C Twerker copy cat's sure can always earn an exclusive slot on BlastFM News & Blog Feeds and domain page. his article reads about two black women and a black male (victim) at a local convenience store in Washington DC who proceeded to twerk the gentlemen down while waiting at checkout.
The Big Question:

Why would they do something so stank?
Washington D.C

police arrested a 22-year-old woman for twerking on a man, and she's charged with third-degree assault.
RELATED POST: Twerking Assault Victim Speaks Out About What Happened Off ...


Our BlastFM Blog Team Was Able to Analyze and Predict an Assumption to the Story; Asking Why Would They Do Such a Thing.


1) They needed some extra funds for beer.
2) High on ecstasy
OR)
(3) Just perhaps they've been listening to
-Uncle Luke Cap D Coming




At the end of the day, we hope

Caramel Kitten

keeps twerking by the fishes with her youtube videos.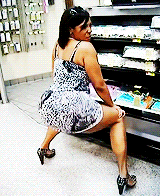 RELATED POST:
- UNCLE LUKE - CAP D COMING