D.C Twerkers: What's All The Twerkin About?
The D.C Twerkers Have you been browsing your social media as of lately, then you've probably heard this story about the D.C Twerkers.
This article reads about two black woman and a black male (victim) at a local convenience store in Washington DC and proceeded to twerk him down.
The Big Question: Why would they do something so stank?
Washington D.C. police arrested a 22-year-old woman for twerking on a man, and she's charged with third-degree assault.
RELATED POST: Twerking Assault Victim Speaks Out About What Happened Off ...
Our BlastFM team was able to analyze & predict an assumption to the story asking why would the two chicks do such a thing.
(1) Maybe they needed some extra funds for beer.
(2) high on ecstasy
(3) listening to Uncle Luke ( Cap D Coming )
---------------------------------------------------------------------------
Whatever it was that made the young ladies twerk out in public, we sure hope it was the right play...
At the end of the day, we hope Caramel Kitten keeps twerking by the fishes with her youtube
videos.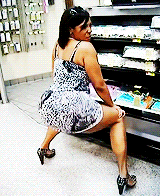 RELATED POST:
- UNCLE LUKE - CAP D COMING #Twerkin #Theshaderoom #blog #uncleluke #CaramelKitten #DCTWERKERS